Heart@Work regenerative coworking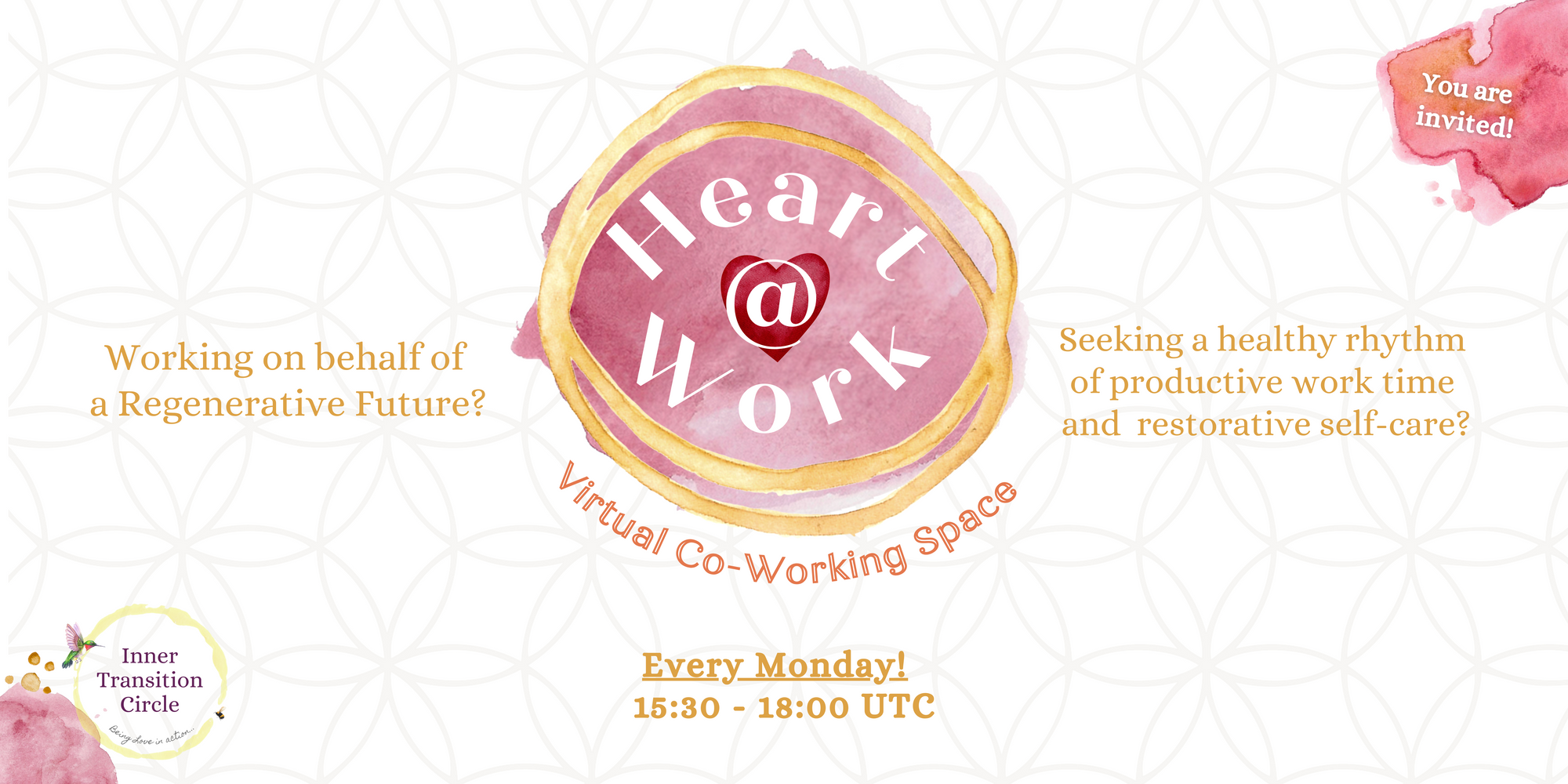 Are you working remotely for a regenerative future?

Would you benefit from a healthy rhythm of productive work time and restorative self-care in a supportive virtual community space?

THEN, YOU ARE INVITED!
In this time together, we create heart-centered virtual co-working spaces every week. Here, we nurture our whole selves, together, in a focused and productive container with a rhythm of self-care and group check-ins.
We can all be more productive, while having more fun!
Join us as we nurture our hearts at work, together!
Every monday at 3:30 PM UTC. (Please check your local timezone in advance)
'H@W' IT WORKS
You are welcome to join any or all of the 3 H@W "sessions" each Monday:We encourage you to join for however much, or little, is in your flow for that day.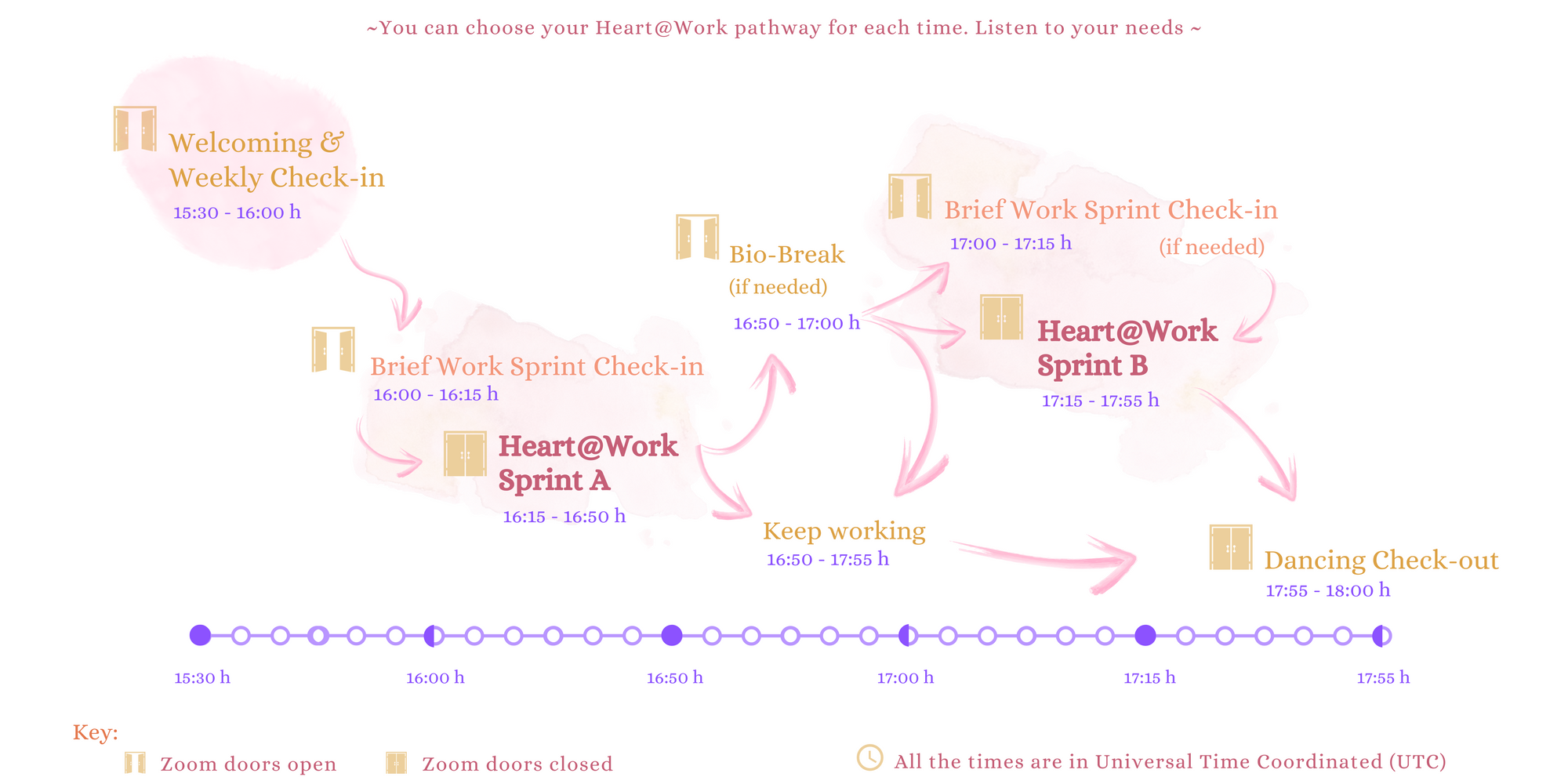 Don't worry about disturbing the group, because we will have the doors closed when we need.
So, please do join whenever you can, and we will open the doors for you according to the schedule.
Each weekly H@W session consists of:
One 30 minute "Open Community Check-In" session (an advice-free zone)
And two 40 minute "H@W Sprint" sessions
There is also dedicated time for self-care breaks and very brief "sprint check-ins" before and after each sprint.

How am I arriving?
Where do I want to keep my focused and productive attention during this 40 min sprint?
How do I want to feel while I'm working during this sprint?

During each H@W Sprint, we remain on the virtual room together (on Camera or not) while we silently work on our separate tasks - whatever we have on our own To-Do lists.
We can also open Breakout Rooms for any collaborative work needs.

And there may be an opportunity, sometimes, to connect more after our closing time and share about what we have been working on, for some lovely cross-pollination!
Check out the Inner Transition Community Calendar below to see your local times and save the dates.
SPECIAL INVITATIONS
Even if a H@W Sprint is not in your flow for that day…
We welcome and encourage you to join the open community check-in (H@W "session" 1) each week. We will appreciate your presence!
If you are feeling a need for special support…
We will do our best to provide a separate space for you to have a deeper check-in.
We may be able to find someone in the community (perhaps the host that day) who is willing and able to hold space for you.
This is your community. Tell us what you need.
If you are working with a partner or group…
Breakout Rooms can be created for you before a Heart@Work sprint begins.
You are always invited to skip our Bio-break and Sprint-B check in…
If that feels in better service to your healthy flow at the time (~ 135 minutes work-sprint, straight through). If you do choose to work straight through please keep your camera and mic off.
Reminder: If you decide to turn the volume down for yourself during our Bio-break and Sprint-B check-in, please set a timer for yourself so you don't miss our closing!
GIFT ECONOMY
In the spirit of the Gift Economy, please consider if it would feel aligned and regenerative for you to make a financial contribution to help support the H@W space!
COLLABORATIVE DESIGN
As we use this space together, you can help co-create its evolution!

Please share any feedback, interests, visions you may have to contribute.
Your voice and participation is valuable to us!
---